Wet Scrubber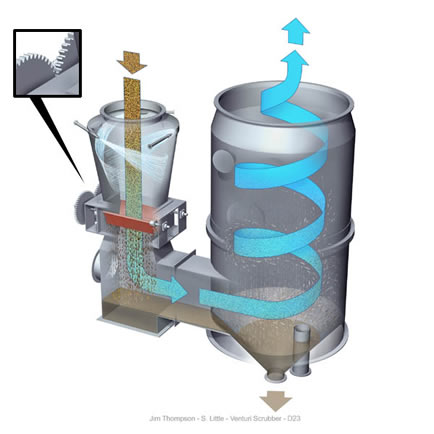 Wet scrubbers are effective air pollution control devices for removing particles and/or gases from industrial exhaust streams. A wet scrubber operates by introducing the dirty gas stream with a scrubbing liquid – typically water. Particulate or gases are collected in the scrubbing liquid. Wet scrubbers are generally the most appropriate air pollution control device for collecting both particulate and gas in a single system.
Industrial Air Filtration & Ventilation offers a variety of wet scrubber systems specifically designed for your process application. Many important operating variables are considered when evaluating the size and type of scrubber for any specific application, and your deadline is always a factor in our responsiveness. For an idea on a typical wet scrubber project timeline, we invite you to use our online tool, to generate accurate start, and completion dates. We will work with you and use our experience and knowledge to provide the proper solution for your process.
Typical wet scrubber systems consist of a scrubbing vessel, ductwork and fan system, mist eliminator, pumping (and possible recycle system), spent scrubbing liquid treatment and an exhaust stack. Modern controls are used to monitor the system and make any necessary adjustments.
Wet scrubbers are common in many industrial applications including pollutant reduction at petroleum refineries, chemical processes, acid manufacturing plants, and steel making.
Wet Scrubber Service: At Industrial Air Filtration & Ventilation, we have the skills and experience to evaluate your systems performance and effectiveness. We are able to make any necessary repairs and improvements to optimize your equipment. In addition to studying the air and liquid streams and pressure drops, we will evaluate your current equipment design relative to your process to assess the opportunities for improvement. We can then develop an engineered solution to provide you with a pollution system which will be efficient and effective well into the future.