Spray Painting Booth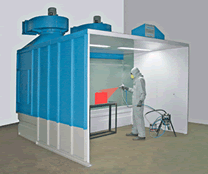 Industrial Air Filtration & Ventilation offer most efficient and unique design, manufacture and installation of both standardized and customized Paint Spray Bake Booth system. Standard Paint Spray Painting Booth system are available ex-stock. Our expertise in specialized applications which may require higher efficiencies or controlled environments is unparalleled. We differentiate our custom-made product range from standard installations where the efficiency and productivity matter most.
Painting Cycle: In this process, both suction & exhaust damper will be in open position. The blower will work as fresh air blower & solvent laden air will be exhausted through exhaust duct. The same time heating will be off.
Drying Cycle: Both, suction & exhaust dampers will be in closed condition & the same blower will circulate the air over the Heater box inside the chamber.
Features & Benefits: Most efficient way of containing over sprayed paint.
Chamber construction: Modular panel construction with proper insulation material (50 mm thick)
Service door provided with wide opening for vehicle entry & exit. Super glass provided on main door panel for good working transparency.
Operator comfort: Filtered air supply & exhaust system provided during painting.
Easy operation: Painting & drying cycles are fully automatic.
Drying cycle: Drying the surface finish, 60 C temperature for 30 minutes. Restricts paint over spray to a specified area.
Excellent overspray collection maximizes environmental compliance.
Safe: minimises risk of fire due to solvent vapours and overspray deposits.
Designed and manufactured for severe industrial environment conditions.

State-of-the-art workmanship.
Superior construction: booth is constructed by nut-bolt.
The advanced dry paint arresting filters design ensures high efficiency.
Hundreds of installations worldwide.
Simple maintenance.
Ideal use for all type of paint applications
Complies with current health and safety legislation.