Pulse Jet Bag Filter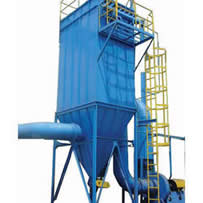 Pulse Jet Bag Filter incorporates the advantages of the several kinds of bag filters and is equipped with high performance pulse valve. This kind of bag filter can be used in building material, metallurgy, chemical and refractory industries, especially the crushing, packing, clinker cooling and grinding workshops in cement production. It is also suitable for dust collection of coal grinding after some modification.
Features: New and advanced dust removing concept. No air pipe. Pulse valve is assembled at the side the chamber shell or top. No need to disassemble and assemble the air pipe when replacing the bags.
High performance pulse is applied to replace many smaller pulse to reduce the maintenance as much as possible.
Multi-chamber and off-line dust removing. Long life of filter bag.
Available for high density dust containing air collection, for example, O-Sepa separator, the dust content of which will reach 1000g/Nm3.
Air tank will reduce the pressure decrease caused by equipment.